All Your FogBugz Cases, in One Place.
LadyBugz is a FogBugz client for your Mac. With LadyBugz you can manage your FogBugz cases and reply to customer inquiries in a single native application. Download the free trial version now.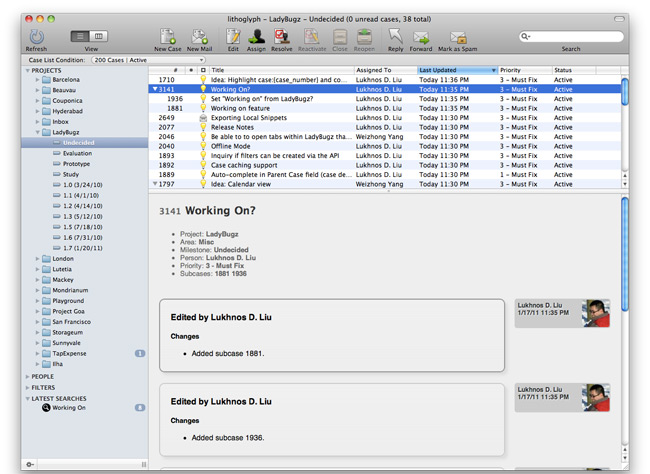 Drag, Drop, Done.
Drag a group of cases to another person, and the cases are now assigned. Drag them to another project from the Inbox. Or drag a case onto another case.

Use Your Snippets.
Import all your snippets on the FogBugz web interface, and use them when replying to customer inquiries or commenting on cases.

Replies Like They're Meant to Be.
Reply to customer inquiries in a Mail.app-like composer. Send attachments and use Address Book entries just like you are using Mail.
Know When You're at Inbox Zero.
Be informed of how many cases you own, or when opened have been updated. LadyBugz can also check for updates to all cases in your FogBugz installation.
Manage Multiple Accounts in One App.
If you work for other clients who also use FogBugz, you no longer need to switch between different browsers. Each account gets its own document window.
It Does More.
Cases and events can be viewed in independent windows. You can keep as many of them as you like on your desktop.
Search histories are kept locally.
The case number can be added in front of the file name of each downloaded file. Now you no longer need to figure out whose attachment that is.
LadyBugz is no longer available for download. The product was discontinued in early 2011. Details
The last version is 1.7.1.4.
If you're looking for a supported FogBugz client, we recommend you take a look at manicwave's Tickets. Existing paid users of LadyBugz can obtain a 50% discount coupon from manicwave. Details here.
Copyright © 2007-2012 Lithoglyph Inc. All Rights Reserved.