Mondrianum Help
Find great color themes on kuler within your Mac apps
About Mondrianum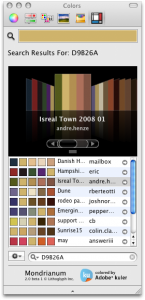 Adobe® kuler is an online community where you can explore, create and share color themes. Color themes on kuler are contributed by its users, many of them designers or in the creative business. You can share with the community your own chromatic ingenuities, too.
Lithoglyph's Mondrianum is a powerful plug-in that enables Mac applications to leverage the resources of the kuler community. Once installed, Mondrianum acts like a built-in, system-wide color picker, available in any Mac application that supports this feature of Mac OS X. Adobe® Photoshop®, Apple's own iWork and iLife suites, Google's SketchUp, and renowned applications like Coda, CSSEdit, and many more, all work well with Mondrianum.
System Requirements
Mondrianum works with either Mac OS X 10.4.11 (and above) or Mac OS X 10.5.5 (and above). Cover flow is not supported when run in Mac OS X 10.4.11.
Since Mondrianum retrieves color theme data from kuler, Internet connection is also required. We don't cache data for off-line use in the version.
Installation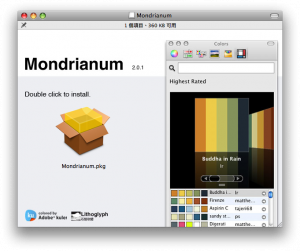 To install Mondrianum, download the disk image file (.dmg), mount the image, and double-click on the installer package (Mondrianum.pkg). The built-in Mac OS X package installer will be launched. Follow the instructions and Mondriaum will be installed.
To Uninstall Mondrianum
To uninstall Mondrianum, simply delete the file "Mondrianum.colorPicker" under in the folder "/Library/ColorPickers". That is the ColorPickers folder under your Library folder in your main disk volume.
Using Mondrianum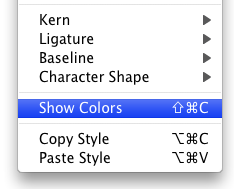 Mondrianum works as a panel item in Mac OS X's built-in color picker, which almost every Mac application supports.
Here's an example of how to bring up the color picker if you use Keynote. Say you want to find some cool color themes for your next presententation. Now bring the color picker up by either:
choosing the Show Colors menu item in the View menu, or,
clicking on the Color icon on the tool bar, or
simply using the hot key combination SHIFT + COMMAND + C.
There are several big icons on top of the color picker panel. The first few to the left are built-in ones. Mondrianum is usally located to the right. The first time you click on Mondrianum's icon, it may take a few seconds to retrieve online data from kuler.
Mondrianum Features
You can try out our cover-flow interface to browse the different themes. Any color you see in Mondrianum can be dragged-and-dropped. Click on the tool button in the bottom-left corner of the panel, and you can choose to load the newest, the most popular or the most highly rated themes from kuler.
You can also search themes by using keywords in the search field. Keywords can be either a theme's name, theme author's name, name of a color ("red"), or the hex web color code (such as "D9B26A").

When you come across a color theme you like, you may want to save it for later use. You can drag the color you like to the bottom of the color picker panel, which works as a system-wide color store for all color pickers. You can also save the theme either as an Apple color list item. An Apple color list item is saved in the system-wide color picker, and you can use it later by switching to the Color Palette panel of the shared color picker.
And for the fun…
You can also set any color theme you like on kuler as your desktop wallpaper. Click on the action button of any item in the theme list, and choose Set as Wallpaper, and voilà.
That's about it, enjoy!
Notes
Mac OS X's color picker system is supported by almost all Cocoa-based applications. Many Carbon applications, such as Adobe PhotoShop, also supports OS X's own color picker system. Microsoft Office® doesn't seem to support (as far as our knowledge goes) it, so it's not possible to use Mondrianum with its applications.
Some applications, such as Apple's Xcode 3, does not work well with cover-flow-enabled plug-in's. If you open up Mondrianum in one of those applications, you'll find the cover-flow view gone. It's disabled on purpose.
Mondrianum is a software made by Lithoglyph, not Adobe Systems®. If there's any problem with the software, let us know.